Tapestry will be resuming January 26 for PM and  January 27 for AM
Just as different threads are woven together to form a beautiful picture, Tapestry's goal is to create something vibrant and colorful as we weave our lives together. Our first threads come in studying the Word and growing in the knowledge of God. The tapestry grows as we seek God's heart through weekly Bible studies and special events.
Our threads are all different—praise God! We would love for you to join us, no matter where you are in your faith journey, as we weave our lives together in Him.

Bible Studies
September 9 – April 7
We all have words we live by.  Maybe you find yours on the news, on Instagram, or from your friends.  Whether we like it or not, words fill our world.  The challenge is this—how much do the words of others fill your space?  How much space do the words of God have in your world?  
This year we will be trying a new format, gathering in the Worship Center and studying together.  For the spring, we will be using a book by Jen Wilkin, In His Image, as our study book and each week one of ten women will be leading our teaching time.  What a great opportunity to hear from women who have walked with the Lord for many years, women from different backgrounds with varying life experience, women who love Jesus and His Word.  
We will break into table groups to discuss questions from the teaching leaders with time to fellowship, pray and laugh together, studying the Word as we seek Him together. 
Hope you will join us! 
Schedule
9/9 – Introduction, Linda Stevenson
WATCH REPLAY
9/16 – Undivided Allegiance, Jaci Mills
WATCH REPLAY
9/22 – Untarnished Worship, Lorraine Stirneman
WATCH REPLAY
9/29 – Untarnished Name, Melissa Miller
WATCH REPLAY
10/6 – Unhindered Rest, Cindy Wiley
LISTEN TO THE REPLAY
10/13 – Honor Elders, Cindy Dancu
WATCH REPLAY
10/21 – Honor Life, Cindy Wiley
WATCH REPLAY
10/28 – Honor Marriage, Jennifer White
WATCH REPLAY
11/4 – Honor Property, BJ Krewson
WATCH REPLAY
11/11 – Honor Reputation, Sherri DeWalt
WATCH REPLAY
11/18 – Honor in the Heart, Nancy Carpenter
WATCH REPLAY
Upcoming Events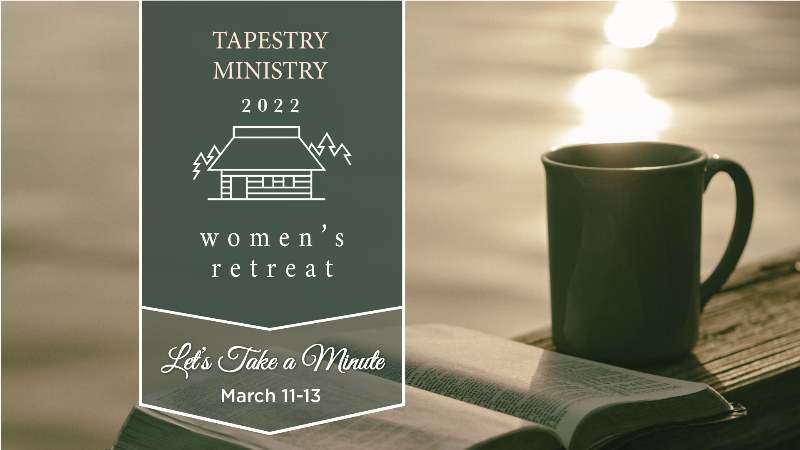 "Let's Take A Minute"
Tapestry 2022 Women's Retreat
March 11 – 13

Our days are filled with a thousand habit patterns, forming us into anxious and weary people.  The freedom of the gospel feels beyond the reach of the daily grind of today. But what can we do about it?
This weekend we will explore the good (and the bad) habits that make up the daily fabric of our lives and look for the life-giving habits of gospel living.
So let's take a minute to learn, to laugh, to change what can be changed … as we seek God together.
More opportunities to connect: