Hope and Restoration
Discussion Questions
On a scale from 1-10, how hopeful do you feel today and why?
Why is hope so slippery and challenging for us to hold onto?
As a follower of Christ, what promised realities in this passage do you already experience? And which parts do you not yet?
How does God's promised future change your present life?
• • •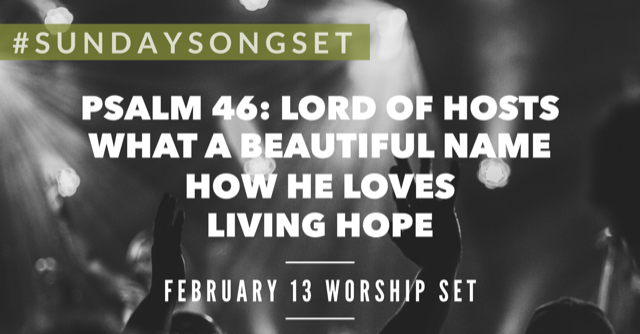 Listen to the #SundaySongSet on Spotify
• • •
Children's Ministries is building our team. We are hiring a part-time assistant. If you are interested please contact Mary Davis at 
[email protected]
 for more info and an application.
• • •
Free Camera Operator Training
Worship Center | February 19 | 9 AM-Noon
Featuring Chelten's own Mike Hickey
Multi Emmy Award-Winning Video Production Specialist
Whether you're already a part of Chelten's livestream production camera team or interested in joining us, don't miss this great opportunity to learn from a pro how to master a video camera. Sound intimidating? It won't be. Mike will begin with simple first steps and move up from there. What do you say? Coming? We hope so. (Best of all it's free!)
Sign Up at Welcome Center
• • •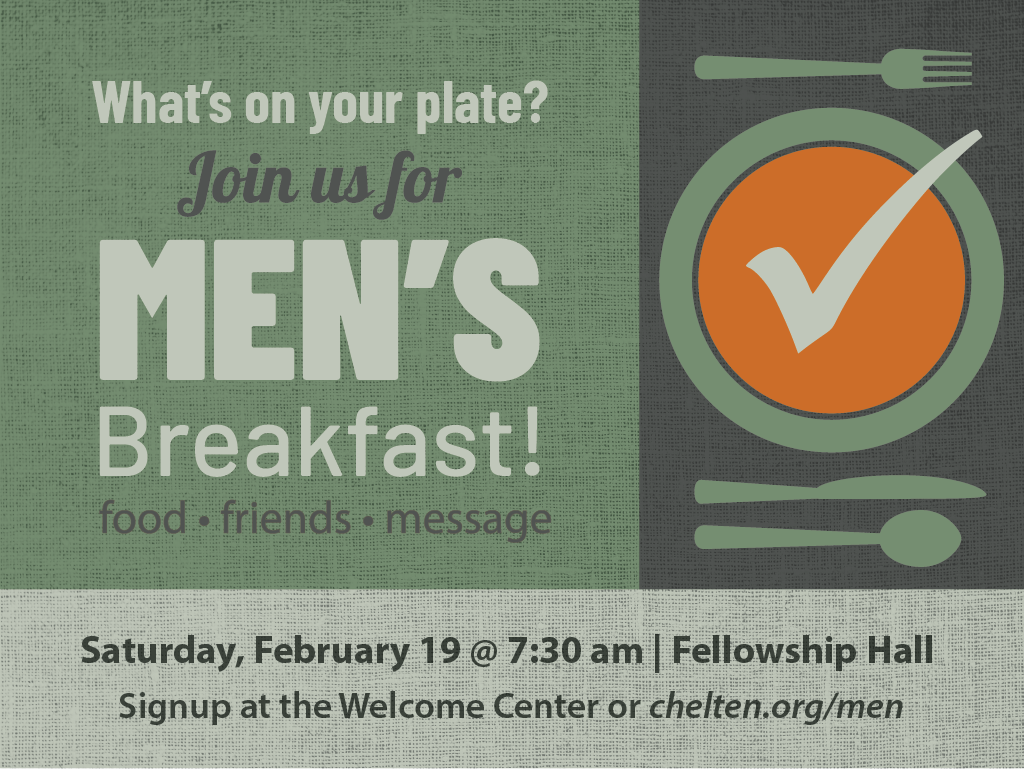 Join us for a hot breakfast buffet and a discussion on "My time in the Phillies Mission Field" with Phil Feather, Assistant Professor at Cairn University and former Director of Ticket Services with the Philadelphia Phillies.
Chelten Men's Ministry wants to connect with you! Sign-up for our events newsletter by adding (or updating) your contact info at the link below. Also, please let us know if you're willing to help out with the program in any way.
• • •
Our days are filled with a thousand habit patterns, forming us into anxious and weary people.  The freedom of the gospel feels beyond the reach of the daily grind of today. But what can we do about it?
During this one-day retreat we will explore the good (and the bad) habits that make up the daily fabric of our lives and look for the life-giving habits of gospel living.
So, let's take a minute to learn, to laugh, to change what can be changed … as we seek God together.
You are encouraged to join the elders for an open forum on Sunday, February 20, 10:20–11:05 a.m. in Fellowship Hall. You are invited to ask questions, raise concerns or provide suggestions regarding the on-going work of the church.
• • •
Every year the Chelten family is invited to participate in the nomination process for the elected leadership positions at Chelten (elder, deacon, deaconess, trustee).
Feel free to nominate multiple people by completing this form several times for Godly individuals who meet the qualifications laid out in Scripture (1 Tim 3:1-13; Titus 1:5-9).
Nominating Committee:
Aaron Blades
Joanna Bryant
Greg Chantz
Joan Gangwer
Scott Knight
Dave Negley
Jim Pitman
Young Shon
The deadline to nominate is
February 20.
• • •
Interested in becoming a member at Chelten? or want to know Chelten at a deeper level? Join one of our upcoming membership classes. There are two identical classes that you can pick from:
Sunday, February 27– 12:45-3:30 pm (Lunch provided)
Monday, February 28– 6:30-9:00 pm
• • •
If you have questions or want to join the volunteer team, you can email us at: [email protected].
Chelten Afghan Refugee Outreach Interest Form
• • •
Chariots for Hope has extended a warm thank you to Chelten church. In response to their urgent need to rebuild staff housing and due to your generosity, Chelten was able to financially assist this need.
Thank you so much for your financial gift for our Maai Mahiu staff housing project! We could not do what we do without people like your congregation. We really appreciate your partnership and kindness toward us. May God bless you for your generosity!
The Chariots for Hope Team