"Faith Embraces Weakness"
Discussion Questions
Where have you bought into our world's definition of strength more than God's?
Jacob's staff served as a reminder of his weakness and dependence on God. What is a "staff" in your life that reminds you of your dependence on Christ?
Who do you regularly confess your weaknesses to? Who regularly confesses them to you?
• • •
Listen to the #SundaySongSet on Spotify
• • •
This is for our 9:00 am service. We are no longer asking for monthly registration for our Toddler-Kindergarten areas. If you plan for your child to attend, please sign in at the check-in area on the playground.
VBS REGISTRATION IS HERE!
August 2-6
All the VBS fun you know with all the fresh air you want! We are excited to bring VBS to our neighborhoods! Bible time, singing, games, crafts, experiments, and more!
Click here to register as a participant or volunteer
• • •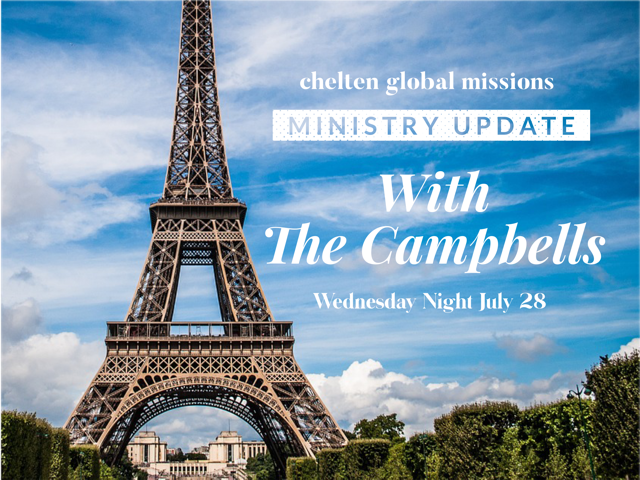 Bill and Kristie Campbell work in evangelism, discipleship multiplication, and church planting in the Greater Paris Region. The Campbell's vision encompasses the entire region of 13 million Parisians. Join us Wednesday, July 28, 7:00 p.m. at Chelten to learn more about their ministry!
• • •
Friday, August 13 @ 5:00 p.m. Worship Center
Friday, August 13 @ 7:00 p.m. Worship Center
A week of fun and hard work at Chelten's Drama Camp in August culminates with the production, OZ Musical. What our kids can turn out in just one week is simply amazing. Come and see for yourself. You don't want to miss it!
More details to come.
• • •
Enjoy the great outdoors, grow in your faith and get to know other men at Chelten. The weekend's message will be "Let's Go! Resetting the Mission from the Prophet Haggai."
Our guest speaker will be Pastor Austin Delgado. Austin began serving at Riverstone Church, Yardley, PA in the fall of 2014. He has a strong passion for evangelism, outreach, and cross-cultural ministry which is evident in his interaction with the world around him.
Contact Dan King for more information [email protected]net.
CHELTEN FAMILY UPDATES
Prayer updates for our 

Chelten

 family can be found below by clicking the weekly prayer needs button.
FINANCIAL SUMMARY
Last Week's Giving
$31,987
• • •
Year-to-Date Giving
$194,711
• • •
Year-to-Date Giving Budget
$204,022