"Worship Matters"
• • •
Discussion Questions
What can you do to be an engaged worshipper with your whole being (emotion, mind, and will)?
How does your individual worship affect your corporate worship with the body of Christ and vice versa?
When and how do you experience the rest of your heart? What hinders you from worshipping God?
• • •
Download Chelten Kids Sermon Notes
• • •
Listen to the #SundaySongSet on Spotify
• • •
• • •

Worship Night with Jim Winder
Join us on Tonight at 6:00 p.m. 
Chelten Worship Center 
Jim Winder, will bring a solo performance of his worship service based on First John called "Blessed Assurance".
Blessed Assurance is a live show which delivers 1 John word-for-word in 5 acts along with original songs based on the storyline.
• • •
This is for our 9:00 am service.  We will plan to be outside, weather permitting. Because we are in a new month, we are asking that parents register their children for the month.  We understand that you may miss a week or two. Registering helps us ensure the appropriate leader to child ratio and allows us to plan adequate indoor space when needed.
Register Your Child for May (Toddler-Kindergarten areas)
Register Your Child for June (Toddler-Kindergarten areas)
• • •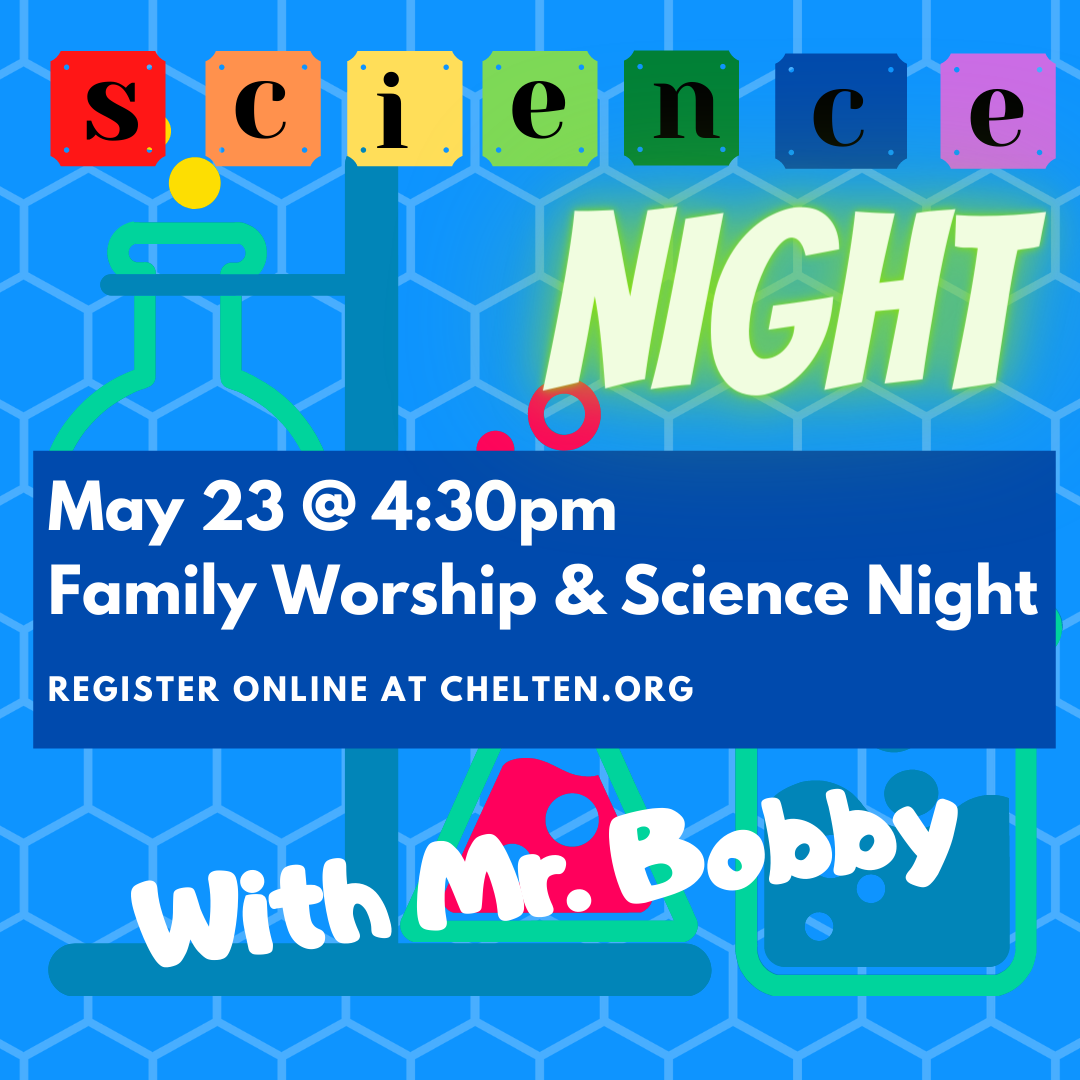 Family Worship & Science Night
We are thankful that God has given us some beautiful days to worship Him, kid-style, in the backfield! Join us as we meet at 4:30 pm.
Bring your blankets or chairs, your Bibles, and be ready to Praise God as we learn more about His love for us and how our faith can grow deeper in Him.  Mr. Bobby Davis will be teaching us biblical truths using science.  Come ready to be amazed and to have fun participating in some cool stuff!  Mr. Bobby has been one of our kids leaders for years and is also a middle school science teacher.
• • •
CCDC is hiring for the summer!
We are hiring Assistant Teachers for both our Toddler and Camp classrooms, starting June 4th! We are looking for energetic people with an HS diploma, experience with children, and a LOVE for kids! Responsibilities include supporting the lead teacher, light housekeeping, engaging in children's play, and helping organize the classroom. Positions are available for June 4th – August 31st as well as into the school year. Contact Kate Nagele at [email protected] for more information and to apply today!
• • •
CHELTEN FAMILY UPDATES
Prayer updates for our Chelten family can be found below by clicking the weekly prayer needs button.
FINANCIAL SUMMARY
Last Week's Giving
$25,751
• • •
Year-to-Date Giving
$1,423,134
• • •
Year-to-Date Giving Budget
$1,457,306